Traditional Japanese Kaiseki Course
The guests with a half board plan can savour artfully prepared multi-course dinner featuring seasonal Japanese "Kaiseki". Please enjoy the Japanese cuisine, of course the taste and also with your eyes!!
Jun~Aug Summer Kaiseki Dinner Menu
? ?-Bamboo Course ?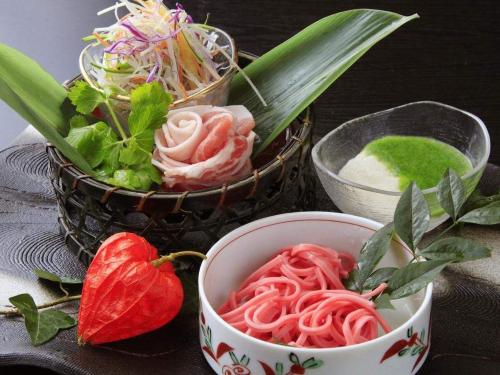 Japanese matcha tofu with sesami source
Press sushi
Salmon roe and squid in Japanese broth
Broad beans
Seasonal three kind of sashimi ( raw fish)
Kamo eggplant with cream source in white celery
Lotusroom with mozuku vinegar
New ginger rice and red miso soup
Mango gelee
? Breakfast ?
Grated Yam - Tororo Rice
Please enjoy our original recipe "Tororo Rice" for the breakfast. It made by grated yam and okura with Japanese broth. Start your day with healthy morning meal!
? Kids Menu ?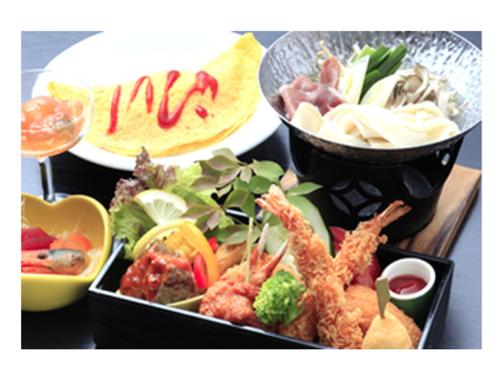 Please inform the children age to us, we will arrange the menu depend on their age.
[Antiallergic Food]
If you have any allergies, please let us know in advance (at least 3 days before of your arrival).
We will arrange the meal with alternative ingredients, but it may cost the extra fee.
If you have serious allergy and can't take the food from the restaurant and wish to bring your own food, please inform us as well.
Able to arrange the meal without these allergies: Shrimp, crab and Egg
Unable to arrange: Buck wheat, peanut and dairy products.
[The Fine Print]
Guest with half-board reservation must check in before 18:30.
Guests who check in after this time may not be served dinner, and no refund will be given.